Vegan Ketones is run by Kathy, Catherine, and Wendy, (more about them later as individuals.)
Kathy, Catherine (two ladies in their early 60's,) and Wendy (34) passionately believe they are what they eat! They want to be energetic, vibrantly healthy and fit.
Nutrition is Key
We want to put the science of nutrition within the framework of everyday eating. A lot of people think that eating a healthy diet means eating rabbit food.  That is iceberg lettuce with one slice of cucumber. Good healthy wholesome food has to give you pleasure as well as nutrients.Your diet should be varied to get all the micronutrients you need.
Modern life often gets in the way of food shopping and preparation. The recipes in this blog are designed to help you overcome the challenges that life throws at you in terms of healthy eating.  It does allow you to go out with friends and family.  You can make choices that are healthy, sustainable and ketogenic.
It's not about foods that you can only buy in specialist food stores online or at the top of Mount Everest. It is about foods that you can find in any well-stocked food cupboard. They can, by and large, be bought in an average supermarket at a reasonable price.
The food that we eat affects us on a  cellular level because what's in our food affects the biochemical reactions of our body they affect every cell and tissue and its functions.  The great thing about this is that we have complete control over what we put into our mouth.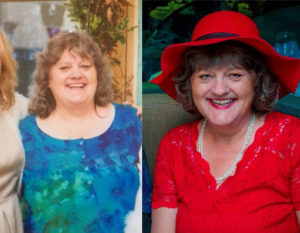 KATHY
I live in rural Scotland and am Mum to 4 grown up children (Wendy is one of them!) and Granny to 4. I've been vegetarian/vegan since my early 20s fluctuating between the 2 (totally vegan now)
With 40 Yrs of experience behind me, I know how to cook vegan foods and have been a professional cook in a vegetarian cafe.
Despite my healthy plant-based diet I've had health issues (you can read about them in my journal) and knew that something was wrong.
Enter Ketogenics….
There is a lot to learn but, the cooking part is easy for me, my happiest times are spent in the kitchen.
Things like making a vegan burger without beans, or sweets without sugar, biscuits without high carb flours. All these things are possible, honestly!
My mission is to help others who want to transition to a vegan keto diet to do so with ease while still making sure all nutrient needs are being met. 
CATHERINE
I have been eating a plant-based diet for most of my life. I have at times been vegan and have at times been a fruitarian. At some times I have eaten fish, cheese, and eggs.
Now I would like to make the transition to being vegan and also following a ketogenic diet. I'll fall off the wagon from time to time in the early stages, as I love cheese, however now is the time to commit myself to become vegan.
We will be writing a journal as we go along and I will be honest in mine if I fall off and eat cheese or any other non-vegan product I will be honest about it. I'm certainly not going to eat meat or fish but cheese could occasionally be my downfall.
I love food. Shopping for food is a delight. Wandering around food markets shopping for vibrant colors in the vegetable market and I put as many colors into every plate of food as I can.  I have always had a love affair with food since being a small child. Inspired by time spent in the kitchen with my mother.
When I approached my teens I became much more aware of the provenance of food. I realized that food could be a medicine as well as a fantastic taste.
I never eat takeaways, I would rather go hungry. The main reason I won't eat them is the fact I don't know what's in them. It's not just having control of carbs it's having control of additives as well.
WENDY
I'm a Medical Herbalist living in Australia.  My motto is small changes can make big differences. You don't need to completely overhaul your life to feel better.
Make a few small changes that over time will accumulate, kind of like the small snowball rolling down a snowy hill. I love empowering people to make changes in their own lives.
I'm in my happy place in the kitchen, making raw desserts with essential oils or fermented goodies for my family.
When I'm not in the kitchen you'll find me out walking with my toddler or at my local Pilates studio attempting to get rid of the last of my baby weight. Small steps and all that…